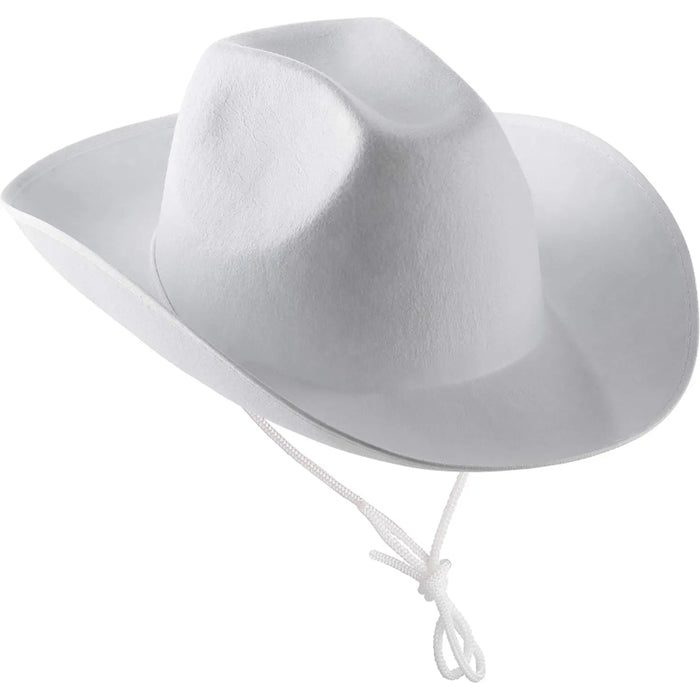 White Cowboy Hat
Visitors are browsing our store
Hurry! this special sale ends in
In Stock

This White Cowboy Hat will become your new perfect accessory for hot summer days. This hat is a cute summer sun hat and is perfect for summer festivals and weekend barbeques. This hat is nice and soft and it folds nicely for you to keep in your bag. It is available in many colors, so choose wisely to match all your summer attires.
Features:

Dimensions measure: 8"x7" Inches. Outside dimensions measure 16" Long x 11" Wide x 7" High. Inside size measures 22" in circumference
COMFORTABLE TO WEAR: The felt cowboy hats are designed to fit older kids, teens, and adults. They are made firm, not flimsy and the attached adjustable neck-string helps keep the hat in place in case it slips down or falls off.
PERFECT FOR PARTIES OR DRESS-UP: They are perfect for playing dress-up or themed birthday parties, Bachelorette parties, Halloween, costume accessories, western-themed outfits, photo booth props, and more
HIGH-QUALITY CLASSIC DESIGN: A comfortable fit for any budget, our western-style hats are quality made, long-lasting, sturdy, and look great.