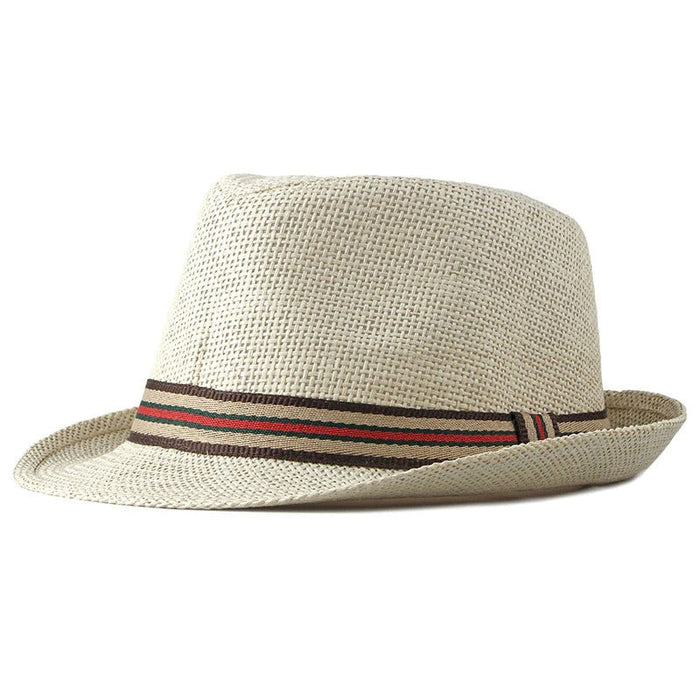 Breathable Classic Fedoras Hat For Men
Upgrade your summer style with our Breathable Classic Fedoras Hat For Men.

Made from top-grade paper and straw, this hat ensures maximum comfort and breathability, keeping you cool and protected under the sun. 

Elevate your summer wardrobe with our Breathable Classic Fedoras Hat For Men. Experience the perfect blend of style and functionality while staying protected under the sun.

FEATURES:
Superior Sun Protection: Our fedoras hat is designed with optimal sun protection in mind. The wide brim provides shade for your face, helping to shield you from harmful UV rays during beach trips, outdoor activities, and everyday adventures.

Timeless and Versatile Design: With its classic and versatile design, this hat effortlessly complements a wide range of outfits and occasions. Whether you're dressing up for a summer event or going for a casual stroll, this fedoras hat adds a touch of sophistication and style to your look.

Comfortable and Breathable: We prioritize your comfort. The use of high-quality paper and straw materials ensures excellent breathability, allowing air to circulate and keeping your head cool even on hot summer days. Say goodbye to discomfort and hello to ultimate relaxation.

Universal Size: Our fedoras hat features a universal size that fits most head sizes, providing a comfortable and secure fit for men of all ages. No need to worry about finding the perfect fit – this hat has got you covered.

Practical and Stylish: This hat is not only functional but also fashion-forward. It is designed for various scenes, including travel, outdoor adventures, beach outings, and shopping trips. It effortlessly combines style and functionality, making it an essential accessory for the modern man.
SPECIFICATIONS:
Material: Paper, Straw
Season: Spring and Summer
Gender: Men
Item Type: Fedoras
Function: Comfortable, breathable, shading, sun protection
Don't miss out on this practical and fashionable accessory. Order now and step up your summer game!