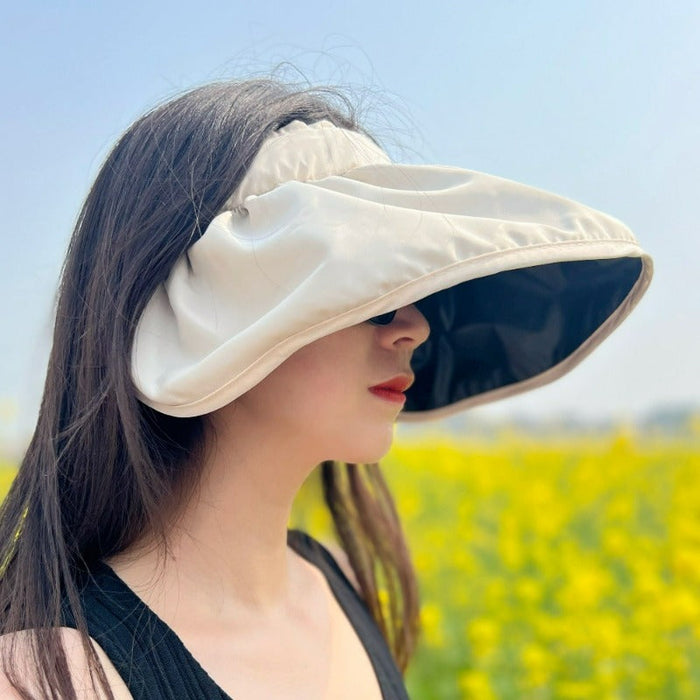 Foldable Anti-UV Wide Brim Empty Top Sun Cap
Stay protected from the sun in style with our Foldable Anti-UV Wide Brim Empty Top Sun Cap.

Designed to provide maximum sun protection and comfort, this lightweight cap is perfect for all your outdoor activities. 

Shop now from our Smilie Beanie Online store and discover our wide range of sun caps for every occasion. 

FEATURES:
Superior Sun Protection: Our sun cap features a wide brim that effectively shields your face and neck from harmful UV rays. Enjoy your time outdoors with confidence, knowing that your skin is well-protected.

Adjustable and Secure Fit: The cap is double-lined and equipped with an adjustable headband, ensuring a snug and personalized fit. No matter the weather conditions, this cap stays securely in place, allowing you to focus on enjoying your outdoor adventures.

Foldable and Portable: The foldable design of this sun cap makes it incredibly convenient to carry with you wherever you go. Simply fold it and pack it in your bag or suitcase, and it will regain its shape when you're ready to wear it again.

Versatile and Stylish: Whether you're heading to the beach, going for a hike, or simply enjoying a picnic in the park, this sun cap complements any outdoor activity. Its empty top design adds a touch of uniqueness and style to your look.

Quality Craftsmanship: Each sun cap is made with love and care, ensuring exceptional quality and durability. We take pride in providing you with a hat that you'll love wearing and that will stand the test of time.


Embrace the summer sun with confidence and style by adding our Foldable Anti-UV Wide Brim Empty Top Sun Cap to your collection.

Order now and enjoy your time outdoors while staying protected!