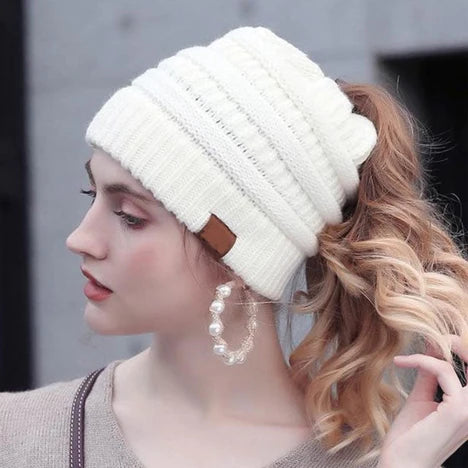 Stay Warm & Stylish With Our Ponytail Beanie
        A stylish appearance always makes a big difference in your personality. In winter, it is hard to be stylish and stay warm at the same time. Because of the freezing weather, we need to wear boring, old-fashioned clothes, but not anymore. The ponytail beanie is so warm and stylish that you don't have to think about your hair or appearance. They are tailored to your preferences, with a small gap in the middle to show off your long, silky smooth hair. Like other beanies on the market, these ponytail beanies don't force you to hide your hair in the beanie. Also, the small gap in the beanie helps you take out your hair and only covers your entire head and ears to stay warm in frigid weather.
You create the new fashion trend with your amazing sense of humor. The Ponytail Beanies are a wardrobe essential since they not only keep your head and ears warm in chilly weather but also offer a cozy touch to any look. Because the ponytail beanie traps air, high-quality wool is a good insulating material in cold weather. Styles of warm beanies are made of waterproof material. This beanie is the warmest garment and offers some wind protection near the ears, so you can be protected from hearing loss.
Style means comfort and confidence. Beanies are necessary to protect body heat because hair alone is insufficient insulation for the body. One thing you need to keep in mind is that cotton shouldn't be your go-to winter apparel material; it should be wool. Hypothermia often has symptoms that are so subtle and take over so quickly. Without any ear protection, spending time outside in the cold can cause hearing loss. Your ear canals may sprout bony growths if your ears are frequently exposed to cold temperatures. Exocytosis, or surfer's ear, is a bone growth disease that can harm your hearing and ear health. If you want to protect your ears from all these problems, you must use the Ponytail Beanie.
The softness of these ponytail beanies will surprise you and make you feel like you're touching the clouds. The Ponytail Beanie is made with luxurious, breathable wool, so you can wear it any time without worrying about your hair breaking off. The ponytail beanie is ideal for those with long and fine, thick and curly hair who want to show off their gorgeous hair and make a trendy style statement with their appearance. So buy now for yourself and others as a holiday gift or for any occasion, only at https://ponytailbeaniehat.com/.